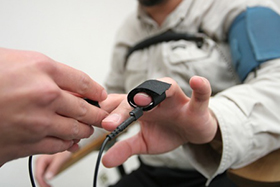 Welcome to Ed Roy LTD, a full-service investigation agency serving all of Louisiana. Our private detective agency has administered polygraph testing in Shreveport, Louisiana for entities such as attorneys, private investigations, and law enforcement. We conduct polygraph tests related to clinical treatment monitoring for sex offenders as well. For the public, we specialize in private infidelity cases. We issue polygraphs related to sexual matters such as masturbation, and porn addiction, allegations of child molestation, and individuals seeking the truth. We have highly trained examiners and professionally certified polygraph experts in Shreveport. Never settle concerning polygraph administrations. Ed Roy LTD is your best choice!
With us, you never have the frustration of dealing with switchboards, IVRs, or phone transfers. You always talk directly to an examiner when you call. Our examiners will also return calls in advance of, between, and after exams, evenings and weekends, and some holidays. Potential clients with questions will receive prompt answers.
About Ed Roy LTD's Polygraph Tests in Shreveport, LA:
Our Examiners Professionally Certified
Statewide Services Availability
Up to Ninety-Eight Percent Accuracy
For a polygraph quote, call us today at (337) 233-3816 or click here to fill out our form.
Pertinent Polygraph Facts
Most people refer to a polygraph as a lie detector test or exam. A polygraph or lie detector is the piece of equipment that measures and records physiological changes within the human body such as breathing rhythms, pulse rate, skin conductivity, and blood pressure to name a few. Your polygraph examiner in Shreveport, LA will ask the subject a sequence of questions. Their responses provoke regular and irregular activity, which is recorded on the polygraph or lie detector apparatus. Measurement results reveal truthful and deceptive responses to the questions asked by the examiner. Although no polygraph is not 100% accurate, our polygraphs produce up to 98% accuracy.
Common Specialized Lie Detector Services Offered in Shreveport, Louisiana:
Adultery, Infidelity, and Cheating
Sex Offenses
Masturbation and Pornography Addiction
Child Molesting Allegations
Criminal and Civil Concerns
Fraud and Theft Issues
Private and Domestic Disputes
Teen and Adult Drug Problems
Insurance Fraud and Claims
Contest Misconduct and Cheating
In case you need services that we do not offer, Ed Roy LTD will refer you to only the finest professionals to handle your needs.
Over the years, we have worked with professionals who offer complimentary services to ours, such as exceptional service from attorneys, private investigators, or counselors and therapists. We will assist you with a trustworthy referral.
While we offer polygraph tests in Shreveport, LA, we offer can administer them to residents anywhere in Louisiana.